Climate-smart food production key for agricultural sector
As Việt Nam's agricultural sector is facing serious impacts of climate change, it is necessary to adapt and improve food production.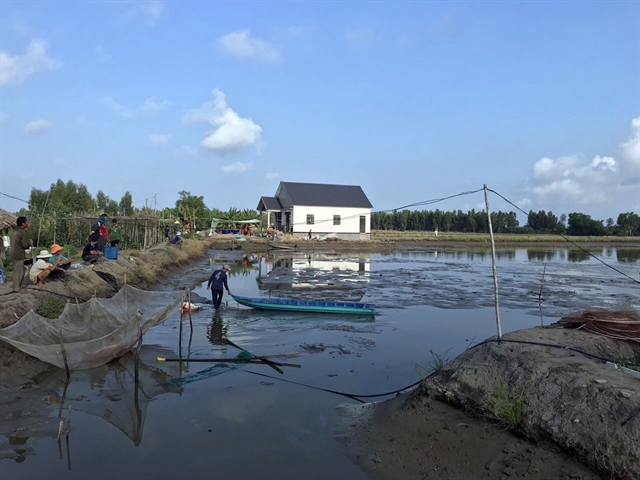 Farmers in Minh Thuận commune, U Minh Thượng District, the Mekong Delta province of Kiên Giang prepare water for the next shrimp crop. Localities in the Mekong Delta have shifted 40,000 ha of farming land to aquaculture and growing fruit trees as part of efforts to make climate-smart agriculture.  — VNA/VNS Lê Sen
Deputy Minister of Agriculture and Rural Development, Lê Quốc Doanh, made the statement at a regional policy forum entitled "Opportunities for Climate-Smart Food System in Viet Nam" held in Hà Nội on Wednesday.
Doanh said positive results have been achieved after raising added value and securing sustainable development over the past six years.
After the adoption of climate-smart agriculture, localities in the Mekong Delta region have shifted 40,000ha of farming land to aquaculture and growing fruit trees. However, rice production has been maintained due to an increase in the productivity and improved quality of rice seed.
"It proves that concerted efforts of international organisations, scientists, state management agencies and farmers can work together to set forth measures which help raise farmers' income and ensure global food security in the context of climate change," Doanh said.
In order to address climate change-related issues, he said there should be coordination between countries.
In the past, international organisations have helped Việt Nam, particularly in the Mekong Delta areas, to reduce adverse impacts of climate change, Doanh said.
He hoped international organisations would continue to play a key role and work with Vietnamese agencies and localities in more specific programmes to ensure sustainable agriculture.
Participants at the forum agreed that solutions to ensure food security, poverty reduction and prevent droughts were urgent issues worldwide. This required the application of climate-smart food production systems.
"If we have to achieve the Sustainable Development Goals (SDGs) related to poverty, climate change and food and nutrition security by the year 2030, we need to then change the way food is produced, processed and consumed," said Samarendu Mohanty, Asia regional director of the International Potato Centre (CIP).
Mohanty said there were seven agricultural production countries taking part in the seed sharing agreement.
He expected that Việt Nam would join because agricultural production, especially cereals, faced major challenges in coping with climate change.
Indian Deputy Minister of Agriculture Ashwini Kumar said his country was working with seven Asian countries in the production of plant varieties adapting to climate change.
He offered to share with Việt Nam its models.
At the forum, participants also discussed policy actions based on various research conducted in Việt Nam, experiences from the field, and insights from policy makers.
The policy actions that should be addressed include how to increase agricultural productivity, enhance food and nutritional security and improve incomes for farmers as well as how to build resilience to climate change and reduce agriculture greenhouse gas emissions.
The forum was organised by the International Potato Centre, Vietnam Academy of Agriculture  Sciences in collaboration with Climate Change, Agriculture and Food Security in Southeast Asia.
Source: Vietnam News